Discover more from Mobile Game Dev
Hyper-Hybrid Casual Game development
5 sources of ideation inspirations for Hypercasual (2022)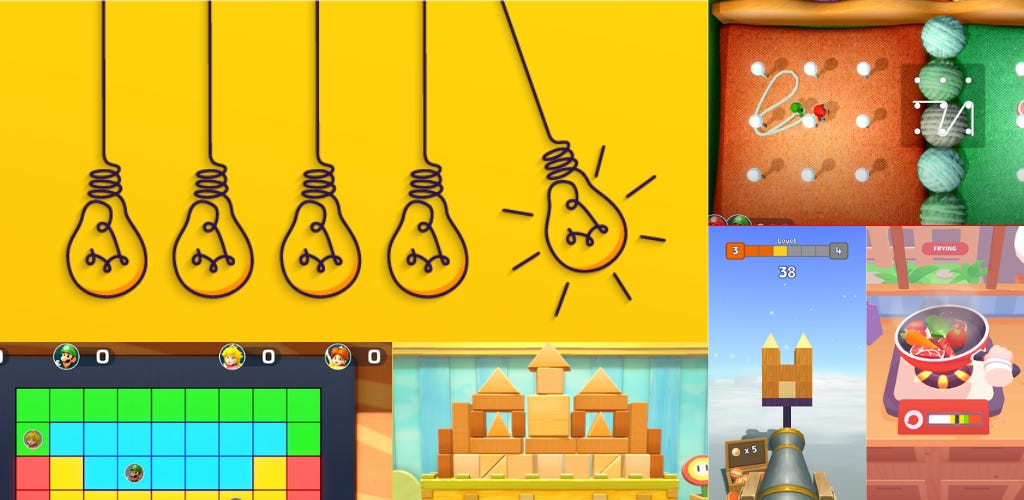 Top charts
This is the most used source of ideation as it shows what's actually working. Referring to my previous blog post about ideation, it is a very good source to create a base. And on top of that base, you need to add a novelty factor (i.e. USP). For hypercasual game developers, it's very important to regularly track the top charts, play games, or at least watch a video to understand what the game is about. Just by scrolling casually through the top charts, inspirations can strike up.
SensorTower is a great website to check the top charts. You can visit both the App Store and Google Play Store rankings by country. It's important to have the selected country as the US as the prototypes get tested in the US. It shows store ranking history, store videos, screenshots, and sometimes the advertised video on the free tier.
2. Nintendo
Nintendo is arguably the best at casual games. Their target audience comes close to the audience of hypercasual games. The game design of Nintendo is always top-notch hence, I feel they are always a great inspiration for hypercasual games.
Super Mario Party is filled with mini-games and has great potential to be converted into hypercasual games. Here are some similarities


These can be inspired by the Nintendo games or not. That's not the point I am trying to make here. I am saying that there are certain similarities between these types of games and hypercasual games. And because of that, these games can easily open up ideation avenues for hypercasual games.
3. GIFs
Satisfying GIFs can be a great source of ideation that has the potential to return very good CPI. The reason is that GIFs are very short just like something we need for a UA video to attract users. Giphy has a huge collection of GIFs. Just search for relevant keywords such as 'satisfying'
4. Social Media
Trending videos and hashtags on social media can give you a great direction on what people are interacting with. The formula is simple and proven, something that all publishers will tell you to do
Find a trend

Gamify
You can browse through TikTok by finding the trending hashtags and picking out the videos that have 10M+ views. Use the TikTok Trend Discovery. Here's a great article by Supersonic explaining How to use TikTok to inspire your hyper-casual game concept


Going through YouTube shorts can also spark up ideas. Just be sure that the video has a significant amount of views



5. Fantasies
People fantasize about a lot of things. And that fantasy can be a common one among a big population. Finding some common fantasies and gamifying that can create a strong game. It's simple. If someone sees their fantasy as a game, there's a very good chance they will play the game. Here are some cases where it worked

It would be amazing to jump in a pool from a huge height!
It would be amazing to be a Titan!
Wish I could be a police officer