Discover more from Mobile Game Dev
Hyper-Hybrid Casual Game development
Hypercasual Game Spotlight: Monster Squad Rush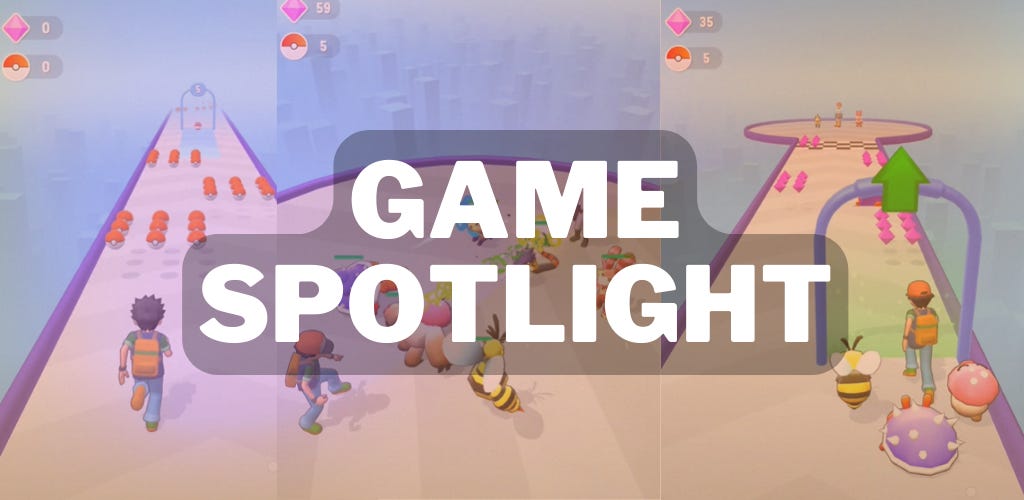 Right off the bat, this is a game that is very much Pokemon-inspired, and it's well-executed. It does not feel like it's only using the Pokemon as a selling point like most Pokemon-inspired games. It genuinely has a good core.
The gameplay is based on three verbs that resonate with the Pokemon (monster) catching theme. The developers turned those verbs into gameplays that go rightly with a hypercasual runner and fall on the sweet spot between noble and innovative.
Verb 1: Catch
Let's start with the most interactive and important verb of the game. The catch verb captures the essence of what the Pokemon is. Quite literally, the theme is 'Gotta catch em all'
After you start the run, the first thing you do is to collect the balls. You can note that the 'collecting' is also a verb but at this point, in hypercasual games, that is taken for granted in very games. So we avoid it as a verb. Then comes the exciting gameplay—a lit-up path towards a gate with a monster in the end and a number on top. As soon as the player gets on the path, he starts throwing the balls toward the monster which intuitively translates into 'progressively catching the monster'.
It could have been made in a way where the monsters are there to be 'collected' like the balls. But that would have been implied that the monsters are not giving a fight, and just wait there powerless. It would have taken the satisfaction of 'catching'. But this way represents the monster giving a fight against the player before finally being their buds (like in Pokemon).
It also represents the power of the monster. The more powerful monster requires more balls thrown into them and it's the player's option to go either with the strong one which is harder to catch or the weak one which is easy to catch.
We can safely say that they nailed the verb 'CATCH' which is I think why we are seeing it in the top charts
Verb 2: Evolve
Nothing new here. A gate that converts x into y. Something that we have seen previously. But it blends right into the monster-catching idea. The next step to catching the monster is to nurture and evolve them to make them more powerful. We clearly see the evolution here but seems like the player is not helping the evolution a lot, he is just guiding the monsters to the door.  
We can see energy balls that the player can collect. These can be used similar to the balls to unlock the evolution gate. Yes, now we see the player effort that goes behind evolving the monster. It represents the player helping the monster to evolve by opening and showing the way which taps right into the Pokemon feel. There's an effort that goes behind evolving the monster which again, makes it satisfying
Verb 3: Fight

This is the verb where the player has the least direct involvement Which is expected because it should nicely wrap up all the effort the player has put into from the start of the level. The collected monsters fight against the monsters of the baddie. In the end, the monsters attack the baddie which blasts away breaking through the familiar multiplier walls. You can almost hear the baddie scream 'Team Rocket's blasting off again!' Nice wrap-up
A fun game that captures the feel and translates the action of Pokemon in an easy and playable way. The representation of the actions of a monster-catching game into a runner is on point